About Carter Subaru Ballard - Seattle Subaru Dealers Offering a Hassle-Free Buying Experience Since 1960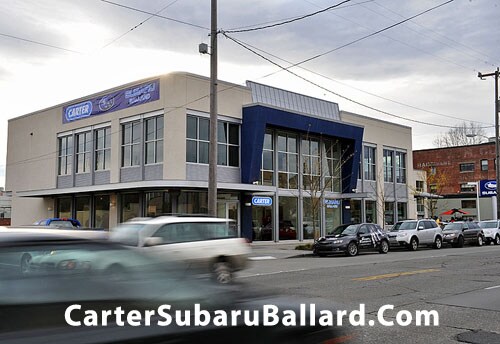 While styles and models have certainly changed a great deal since we first opened, one thing has remained constant - our commitment to customer satisfaction. It's at the cornerstone of all we do and has contributed to our continued success and growth, making us the largest Subaru dealership in Washington State.                                     
And for all of us at Carter Subaru, customer satisfaction starts with our commitment to a Hassle-Free experience.
Hassle-Free isn't a product you can sell... Hassle-Free is an attitude.
It begins with a family that takes pride in its unequaled reputation for providing genuine, knowledgeable and straightforward service. A family that supports its community and the environment, by planting thousands of trees in the Mountains to Sound Greenway.
Hassle-Free is an attitude of value. We know there's a lot to love about a Subaru, but at Carter we also know that price is a major factor in your purchasing decision. That's why each and every car we sell is honestly priced to begin with. That's Hassle-Free buying, and clients like that about Carter Subaru.
We hope you'll like that about us too - a genuine Hassle-Free experience from a company that's grown in its community thanks to the support of our many satisfied customers.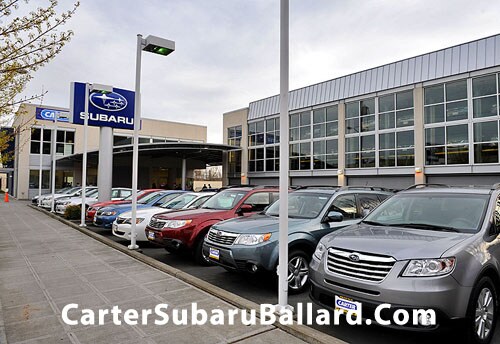 Carter Subaru Ballard offers many automotive products and services to our Seattle area customers. From quality new Subaru cars in Seattle to used cars in Seattle, we know anyone looking for a Subaru in Seattle will likely find what they want at our dealership. We carry a comprehensive line of Subaru vehicles, including the new Subaru Legacy, Impreza, Outback, Forester and Tribeca, making us a good choice as your Seattle Subaru car dealer.
Our services include trusted Subaru car repair, original Subaru parts, and financing to help our customers purchase the car of their dreams.
Call Carter Subaru Ballard at (206) 782-7475, or come visit us in person. We're conveniently located at 5201 Leary Ave NW, Seattle, WA 98107 and look forward to helping you with your automotive needs.  We are a hands-on business, family owned & run. We truly want your experience with us to be enjoyable and HASSLE-FREE.